Udruženje Žene U Muzici Srbija
Udruženje ŽENE U MUZICI SRBIJA osnovano je 17. juna 2003.g. u Kragujevcu na inicijativu Prof. Vojne Olivere Nešic, kompozitorke. Osnova rada ovog Udruženja je Deklaracija Udruženja `Zene u Muzici"` Kragujevac, septembar 2003., koji je potpisan od Vojne Nešic, predsednice Udruženja i Patriše Edkins Kiti, predsednice Fondacije: Donne in Musica, Cilj Udruženja je afirmacija žena u oblasti stvaralacke i reproduktivne muzike: kompozicija (primarno), izvodaštvo, muzicka pedagogija, muzikologija, etnomuzikologija, dirigovanje, istraživanje, mediji, nauka... i svih koji žele afirmisati žene u muzici. Udruženje je otvoreno za sve clanove iz Srbije i iz bilo koje zemlje i nacionalnosti u svetu. Udruženje je clan Fondacije Edkins Kiti: Žene u muzici, Fjudji , i sve aktivnosti su u saradnji sa Fondacijom. Glavne aktivnosti udruženja u Projektu ''Mladi za pravdu i mir", su: INTERNACIONALNO TAKMICENJE "DONNE IN MUSICA" za mlade takmicare (6-30 godina) u disciplinama: klavir, kamerna muzika, klarinet, hor, kompozicija. Takmicenja su prva i jedinstvena takmicenja mladih u istoriji Srbije i Evrope , od kojih se, kao obavezni program, traži delo žena kompozitora.
Vojna Olivera Nešic, kompozitorka Predsednica.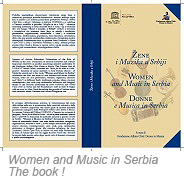 The Association WOMEN IN MUSIC Serbia was founded June 17.2003 in Kragujevac on the initiative of Prof. Vojna Olivera Nešić, composer. The work of this association is based on Declaration of`` Women in Music`` Kragujevac 2003, signed by Vojna Nešić, president of Association and by Patricia Adkins Chiti, president of Fondazione Adkins Chiti: Donne in Musica. The goal of the Association is affirmation on women in the area of creative and reproductive music: composition (primarily), performance, music pedagogy, musicology, ethnomusicology, conducting, research, media, science… and all who want to affirm women in music. Association is open to all members from all Serbia and from any other country and nationality in the world. All of their activities are in relationships with Fondazione.
The main activities of association in Project ``Youth for justice and peace``are the INTERNATIONAL COMPETITION ``DONNE IN MUSICA`` for young competitors (from 6 to 30 years) in the following disciplines: piano, chamber music, clarinet, choir, composition. The competitions are the first and only youth competitions in Serbia and Europe within which the works of women composers are obligatory in their programmes.
Udruzenje Zene u muzici Kragujevac
President - Olivera Vojna Nesic, composer
Kneza Mihaila 84/lV- 44
34000 Kragujevac - Serbia