Accademia del Tempo Libero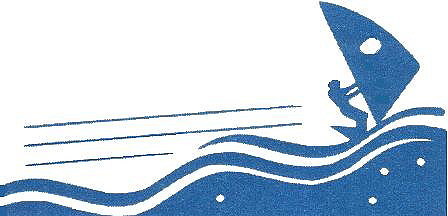 L'Accademia del Tempo Libero è un'associazione nata nel 1999.
Scopo dell'associazione è quello di sollecitare i soci perché impieghino il loro tempo libero in utili e piacevoli iniziative culturali, didattiche, sportive e ricreative.
Promuove e realizza manifestazioni, corsi, incontri, conferenze, dibattiti,incontri musicali, concorsi, gite, escursioni e visite in località e strutture di interesse storico, artistico ed archeologico.
Da diversi anni ha un settore dedicato alla promozione delle pari opportunità per le compositrici.

The Academy for Free Time was founded in 1999 to encourage members to spend their spare time in useful enjoyable cultural, educational, sporting and recreational activities.
It promotes cultural events, courses, meetings, lectures, debates, musical events, competitions, tours, excursions and visits to places and sites of historical, artistic and archaeological interest.
For some years now it has a special section devoted to the promotion of equal opportunities for women composers.
Artemusi(c)a - Compositrici per le Marche
L'ASSOCIAZIONE ARTEMUSI(C)A–COMPOSITRICI PER LE MARCHE è nata a Recanati nel 2001 e vi ha esordito con lo spettacolo "Omaggio a Giacomo Leopardi" (Notturni Leopardiani 2002). Essa riunisce le compositrici Paola Ciarlantini (Presidente), Barbara Polacchi, Roberta Silvestrini, Stefania Spadini, Sara Torquati, Luciana Tosti Mariotti, Loredana Totò e Francesca Virgili, musicalmente attive in numerosi campi oltre a quello compositivo. L'associazione collabora con enti ed istituzioni presentando progetti compositivi atti a valorizzare la creatività femminile. Per il complesso della sua attività dal giugno 2003 fa parte del Comitato d'Onore Italiano della Fondazione Adkins Chiti: Donne in Musica. Nel marzo 2006 RAI III le ha dedicato un servizio televisivo. Nel dicembre 2006 la propria Messa vocale "Virgo Lauretana" (Basilica di Loreto, 2004; edita nel 2008 da Musik Fabrique) è stata eseguita in una nuova versione a San Pietro nel Vaticano e per la prima volta nella storia della Basilica una funzione liturgica è stata animata da musiche di donne compositrici. La propria opera multimediale "Musiciste per Auschwitz" ha celebrato la Giornata della Memoria 2007 presso il T. delle Muse di Ancona ed è stata riproposta a Trieste, Bolzano e in altre città italiane. L'ultimo progetto dell'Associazione si chiama "Artiste in dialogo" ed è un incontro tra musica e poesia, condotto insieme alle poetesse marchigiane N. Stramucci, L. Battaglia, R. Morresi e M. G. Maiorino.

ARTEMUSI(C)A–COMPOSITRICI PER LE MARCHE was born in Recanati (MC) in 2001 and the first event was "Omaggio a Giacomo Leopardi" (Notturni Leopardiani, Recanati 2002). The Association is directed by the composers Paola Ciarlantini (Chairman), Barbara Polacchi, Roberta Silvestrini, Stefania Spadini, Sara Torquati, Luciana Tosti Mariotti, Loredana Totò and Francesca Virgili, who are also active in different musical fields. ARTEMUSI(C)A works with public and private institutions with projects to promote female creativity. For its activity the Association is from 2003 in the International Honour Committee of the Fondazione Adkins Chiti: Donne in Musica of Rome. In March 2006 RAI III dedicated a programme to ARTEMUSI©A. In December 2006 a new version of the vocal Mass "Virgo Lauretana" (Basilica di Loreto, 2004; edited in 2008 from Musik Fabrique) was performed during a Mass in S. Peter's in the Vatican, the first mass by a woman composer in the Basilica's history. The opera "Musiciste per Auschwitz" celebrated the Holocaust Memory Day 2007 in Ancona's Teatro delle Muse and was performed also in Trieste, Bolzano and other important Italian cities. The latest project of the Association is "Artiste in dialogo", a meeting between Music and Poetry thought and performed with poetesses of Marche region N. Stramucci, L. Battaglia, R. Morresi and M. G. Maiorino.
Artemusi(c)a – Compositrici per le Marche
President – Paola Ciarlantini,
Via della Resistenza 8
62019 Recanati (MC) - Italy
http://artemusica-compositriperlemarche.blogspot.com
This email address is being protected from spambots. You need JavaScript enabled to view it.
Associazione Parnaso Donne in musica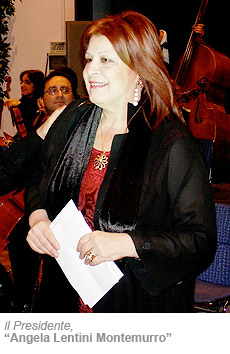 Di questa Associazione, che nasce in seno all'EurOrchestra da camera di Bari, ma che è dotata di propria autonoma configurazione , nonchè di propria partita IVA e iscrizione all'albo, è Presidente Angela Montemurro Lentini , pianista compositrice e didatta e barese.
L'Associazione promuove in Puglia (e nel mondo) il principio di Pari Opportunità in tutte le Arti, a beneficio sia delle donne che operano nel mondo delle Arti, sia di quelle che studiano e promuovono e fanno ricerche sull'Arte .
La Associazione ha creato dei Dipartimenti, ognuno con una sua Direttrice, scelta tra donne rappresentatitve della cultura e dell'arte barese e pugliese, che ha la delega ad occuparsi in maniera specifica di alcuni particolari aspetti della creatività e delle problematiche etiche, sociali, culturali interculturali, legislative, di qualità della vita ecc, ad essa connesse.
L'Associazione ha dei collegamenti a livello mondiale con le altre Associazione di donne artiste,attraverso la rete delle Donne in Musica. Nello statuto della Associazione è riportata la dichiarazione di Fiuggi della Fondazione Adins-Chiti -Donne in Musica, al cui spirito si ispira la Associazione Parnasodonne di cui in oggetto.
L'Associazione programma concerti, concorsi, convegni, studi, ricerche e quant'altro possa servire alla realizzazione nel mondo del principio di pari opportunità , parità sociale e culturale e di concordia civile.



ARTISTECREATRICI OF PUGLIA with the EurOrchestra came into being in 2006 and its president is Angela Montemurro Lentini, pianist, composer and teacher.
The Association was born to promote, in the Puglia Region, equal opportunities in all the arts, especially for women who create, study, promote and undertake musicological research.
The Association has been structured into departments, each with its own director, chosen from women representing culture and the arts in Bari and in Puglia. The Association has links with other international associations of women artists, through the Network of Women in Music. The statutes of the Association are based upon the Declaration of Fiuggi and this mission has inspired Association Parnasodonne.
The Association promotes concerts, competitions, conferences, studies, research to achieve equal opportunities for women musicians and artists. The main activity of the association is undertaken in collaboration with the EurOrchestra's Seasons, now in its eleventh edition, in which the annual Concert on the 8th March is dedicated to women's creativity.
Their ongoing International Competition "EurOrchestra Nuovi Interpreti", now in its third edition, searches for a work written by a woman for instruments and duo (with orchestra) for which there is little current repertoire.
Associazione ParnasoDonneinMusica,

Via Eroi di Dogali6/A
70123 Bari, Italy

http://parnasodonne.blogspot.com
This email address is being protected from spambots. You need JavaScript enabled to view it. - This email address is being protected from spambots. You need JavaScript enabled to view it.