Muziči Centar Crne Gore
Muzička kultura u Crnoj Gori opterećena je izuzetno velikim problemima. Relativno skromna muzička tradicija sa jedne strane, nepostojanje muzičkih institucija sa druge i više nego nisko mjesto koje je do sada muzika zauzimala na listi prioriteta nacionalne kulture, uz brojne subjektivne slabosti koje traju decenijama, dovele su do stanja kada se o muzici, kao organizovanoj kulturnoj djelatnosti u Crnoj Gori, teško moglo govoriti. Uviđajući potrebu promjene stanja u muzičkoj kulturi, Vlada Republike Crne Gore je 2006. godine osnovala Muzički centar Crne Gore. Formiranje Javne ustanove Muzički centar Crne Gore, predstavlja optimalnu mogućnost osmišljenog, planskog i postupnog prevazilaženja ogromnih problema koji decenijama opterećuju crnogorsku muzičku kulturu. Obezbjeđivanjem uslova za otpočinjanje i razvoj njegovih djelatnosti, Crna Gora je dobila muzičku instituciju i muzičke ansamble.Po svojoj strukturi, prirodi funkcionisanja pojedinih segmenata muzičke kulture,i u cilju racionalnog pristupa organizovanju muzičkog života na teritoriji čitave Republike, Muzički centar Crne Gore na najbolji način odgovara složenim zahtjevima dugoročne organizacije, disperzije i promocije različitih oblasti muzičke kulture, kao i koordinaciji i podsticaju vrhunske pedagoške djelatnosti i lokalnih aktivnosti u ovoj oblasti. Muzički centar Crne Gore je jedan od važnih kulturnih simbola Crne Gore koji kulturnom komunikacijom i afirmacijom nacionalnih umjetničkih vrijednosti govori i o stupnju opšteg nivoa savremenog crnogorskog društva, položaju kulture u njemu i njegovih kolektivnih stremljenja ka integraciji u evropske kulturne i društvene tokove.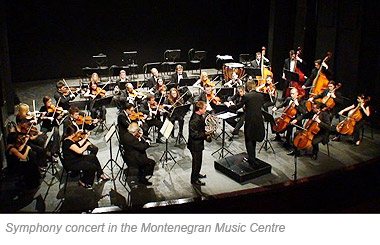 Music culture in Montenegro is burdened by large problems. The relatively modest music tradition, the absence of the music institutions, the low place that music has occupied on the priority list of national culture, combined with a number of other weaknesses, have led to a situation where music, as an organized cultural activity, barely exists in Montenegro. Recognizing the need for change, the Government of the Republic of Montenegro founded in 2006 the Music Center of Montenegro which created a possibility for a structured effort to overcome huge problems. Through the Music Center and its activities, Montenegro has a professional music institution which thanks to its very structure, meets the complex demands of a long-term and organized promotion of various aspects of music, as well as the coordination and nurturing of a high level pedagogical approach and related local activities. The Music Centre is an important cultural symbol of Montenegro. Through its activities, communication and affirmation of national artistic values, it highlights the overall social position of the contemporary Montenegro, the role of the culture, and its collective effort towards integration into European cultural and social trends.