Associazione Parnaso Donne in musica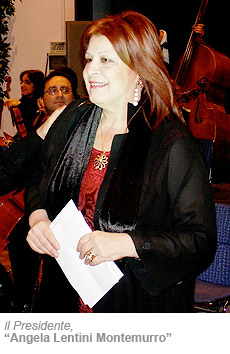 Di questa Associazione, che nasce in seno all'EurOrchestra da camera di Bari, ma che è dotata di propria autonoma configurazione , nonchè di propria partita IVA e iscrizione all'albo, è Presidente Angela Montemurro Lentini , pianista compositrice e didatta e barese.
L'Associazione promuove in Puglia (e nel mondo) il principio di Pari Opportunità in tutte le Arti, a beneficio sia delle donne che operano nel mondo delle Arti, sia di quelle che studiano e promuovono e fanno ricerche sull'Arte .
La Associazione ha creato dei Dipartimenti, ognuno con una sua Direttrice, scelta tra donne rappresentatitve della cultura e dell'arte barese e pugliese, che ha la delega ad occuparsi in maniera specifica di alcuni particolari aspetti della creatività e delle problematiche etiche, sociali, culturali interculturali, legislative, di qualità della vita ecc, ad essa connesse.
L'Associazione ha dei collegamenti a livello mondiale con le altre Associazione di donne artiste,attraverso la rete delle Donne in Musica. Nello statuto della Associazione è riportata la dichiarazione di Fiuggi della Fondazione Adins-Chiti -Donne in Musica, al cui spirito si ispira la Associazione Parnasodonne di cui in oggetto.
L'Associazione programma concerti, concorsi, convegni, studi, ricerche e quant'altro possa servire alla realizzazione nel mondo del principio di pari opportunità , parità sociale e culturale e di concordia civile.



ARTISTECREATRICI OF PUGLIA with the EurOrchestra came into being in 2006 and its president is Angela Montemurro Lentini, pianist, composer and teacher.
The Association was born to promote, in the Puglia Region, equal opportunities in all the arts, especially for women who create, study, promote and undertake musicological research.
The Association has been structured into departments, each with its own director, chosen from women representing culture and the arts in Bari and in Puglia. The Association has links with other international associations of women artists, through the Network of Women in Music. The statutes of the Association are based upon the Declaration of Fiuggi and this mission has inspired Association Parnasodonne.
The Association promotes concerts, competitions, conferences, studies, research to achieve equal opportunities for women musicians and artists. The main activity of the association is undertaken in collaboration with the EurOrchestra's Seasons, now in its eleventh edition, in which the annual Concert on the 8th March is dedicated to women's creativity.
Their ongoing International Competition "EurOrchestra Nuovi Interpreti", now in its third edition, searches for a work written by a woman for instruments and duo (with orchestra) for which there is little current repertoire.
Associazione ParnasoDonneinMusica,

Via Eroi di Dogali6/A
70123 Bari, Italy

http://parnasodonne.blogspot.com
This email address is being protected from spambots. You need JavaScript enabled to view it. - This email address is being protected from spambots. You need JavaScript enabled to view it.